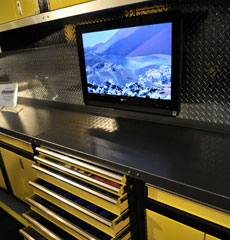 What We Do
Garage Custom Designs, Custom Storage & More
This is where the major part of our business is, to find out the customers needs and to safely store their garage equipment, whether it is sport, gardening, handyman or the automotive enthusiast.
There is a storage solution that can be designed to everyone's specific needs. With heavy duty thermoplastic slat wall panels with an abundance of locking hooks, baskets and shelving that you can choose from when designing your garage.
If you are not sure about your hardware decision we can exchange that item for another, within 30 days of purchase.
The overhead storage systems are a great feature in all garages. Just think of all that clutter, you only need for certain seasons , being off the floor and out of sight until the new season starts, whether it is Christmas decorations or Halloween just put them in large plastic containers and put them up and away.
We also carry tire rack solutions, since everyone has summer and snow tires in our region it is obvious to store them on the wall and not on the floor. Think of the space you would gain from that. All these products can be professionally installed by GarageGuyz.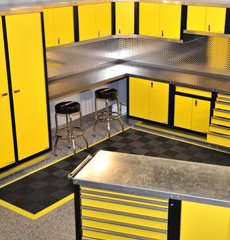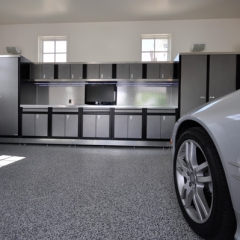 As a licensed Ontario Garage Organizer business in Ottawa, my objectives are to enhance your workable space by providing garage repair and remodel services that keep to a strict timeline and budget so that you're not faced with expensive surprises.
Whether you're looking to repair damage to your garage floors, walls, or doors or to completely remodel it or just give it a few facelifts, my team is licensed, bonded and most importantly experienced and reliable.  We are looking forward to assisting you with all of your garage repair or remodel needs including:
Garage repair and restoration
Garage remodel (garage flooring, garage walls)
Garage maintenance
Garage storage solutions
Install garage shelving and cabinets
Install a lift (We have a wide variety of lifts for vehicles, motorcycles, ATV`s, snowmobiles and even snowblowers.)
Complete a garage design plan
Install a boat storage solution
Design and install a garage workshop