Garage Lifts

When you hear 'garage lift' most people instantly imagine a car lift that a car enthusiast would use to work on one of his many automobiles. But at GarageGuyz we have a wide variety of lifts not only for vehicles, but for motorcycles, ATVs, snowmobiles and even snow-blowers.
And some of these lifts can act as a workbench that folds away when not needed. Imagine parking 2 vehicles, one on top of the other, in one area of your garage, or storing your motorcycle, snowmobile or ATV on your wall 7 feet off the floor.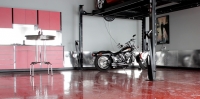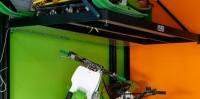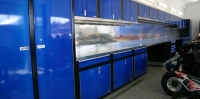 Now, choosing a lift for your garage isn't as easy as picking 'the red one', there are other things to consider when purchasing and installing a garage lift.
You need to measure. A lot!
What is the ceiling height in your garage?
Don't forget to take into account anything that will get in the way of the lifts operation, such as garage door openers, door tracks, lights and attic staircases.
After you install those wall-to-wall custom garage cabinets, do you have room for a lift? Ensure your garage is wide enough to handle your new lift.
How deep the garage is will determine what type of lift will fit in your space. Keep an eye open for any potential obstructions that may prevent the lift from being installed and operating properly.
Your garage floor, how thick is it?
Some lifts require a minimum thickness of 4" of concrete as the base. Make sure your concrete is thick enough to hold your lift.  Also, ensure your concrete is in good condition with no major cracks or holes.
What is the height, width, weight and wheelbase (measure from center of front wheel to center of rear wheel) of your largest vehicle?
Obviously, you want your cars to fit on your lift, you want the lift to be able to support your heaviest vehicle, and you want to make sure that there is enough clearance when the lift is being used.
What is the height of your tallest vehicle?
Once again, knowing this measurement helps you ensure that there is enough clearance in your garage.
Once you know the above measurements and have determined what you are planning to do with it (vehicle storage or car repairs) then you can start looking at which type of lift you can get. Do you need a 2-post lift or a 4-post lift? Do you need to store an ATV, snowmobile, motorcycle or lawnmower?
Improperly installing a lift (any lift) can do a lot of damage to your garage, your house, and your vehicles and equipment. GarageGuyz takes the pressure off you by providing professional planning, measuring and installation of all our lifts. Not sure what you're looking for? Book a no obligation consultation with a member of our team and we'll help you get a clearer picture.