Superior Garage Flooring Solutions
Covering that dusty, cracked concrete floor in your garage will make a world of difference. We work with high performance polyaspartic concrete floor coating systems, for both commercial and residential garages.
These concrete coatings are highly durable and sustainable solutions for a range of applications from garage car repair, garage workshops and garage man-caves alike.
The technology utilizes high performance polyaspartic concrete floor coating systems to create ultra-high performance flooring designed for high efficiency and top level results.
Your garage floor will be:
Durable.

100% UV clear topcoats and UV stable pigmented coatings & stains provide for a rich and long lasting finish that will not fade, amber or peel.

Flexible.

The patented technology effectively absorbs into concrete or steel substrate in order to bond both mechanically and chemically within the pores of the material.

Corrosion resistant.

Superior strength and durability means that coatings will need to be replaced less often while dramatically enhancing the life-span of any floor.

Chemical resistant.

Resistant to a wide range of commercial and industrial chemicals. Full resistance to other highly corrosive fluids.

Superior adhesion

. Our coatings and sealers can be used in higher traffic areas where traction is key. This is achieved in conjunction with a quartz or silica additive within the coating process.
Our protective coatings show superior levels of durability, flexibility, adhesion, corrosion resistance, and chemical resistance. All achieved by our high level of knowledge of coating chemistry and the ability to focus on customers needs.
Our moisture cure coating chemistry enables us to formulate products that are not only applicable regardless of the climate but also designed to dramatically reduce application times and costs.
They perform far superior with respect to traditional epoxy and
urethane coating technology and are easy to maintain.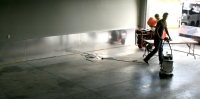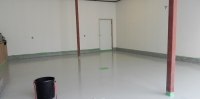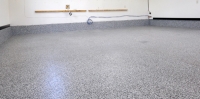 You will be able to walk on your new floor in 2 hours! It has a faster cure time that reduces your down time and maximizes efficiency.
Superior Adhesion to Concrete & Steel
All Climate Application. No limitations for minimum cure temperatures. Can be applied in temperatures well below that of standard epoxies and urethanes.